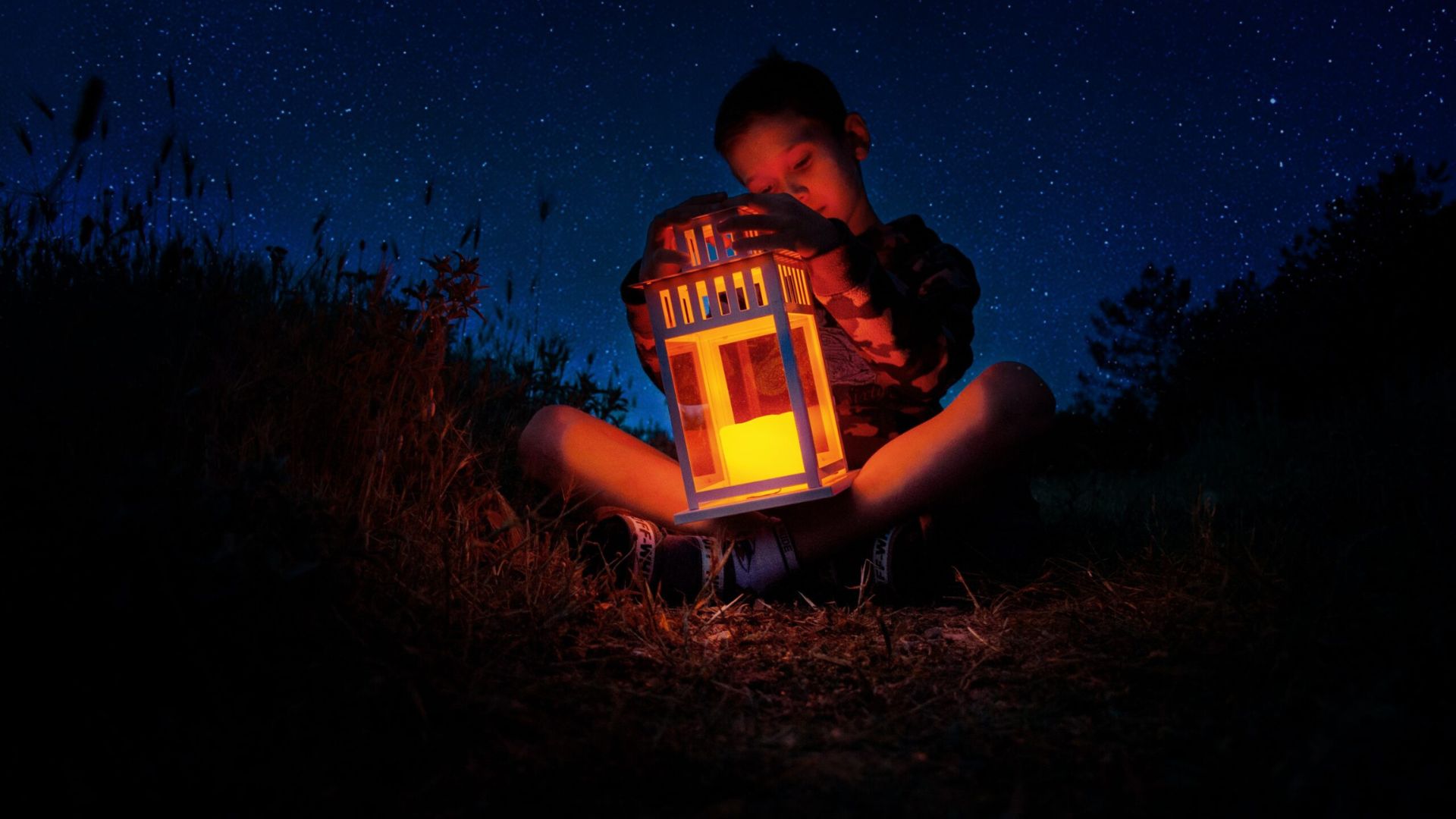 23 Aug

The American Promise

The American promise is a belief that anyone, regardless of where they were born or what class they were born into, can attain their own version of success in a society in which upward mobility is possible for everyone. "Everything is bigger in America," I was often told, before I left Uganda. Surely, it can't be everything.  So, I thought that local flights in the United States of America (hereafter the US or America) would be on  the biggest airplanes. I was mistaken. The airplane I boarded from Dallas to Manhattan was the smallest I've ever taken.  No, not to Manhattan of New York! There is another place named Manhattan in the State of Kansas.  I learnt that many places in the US have the same names. "That's normal," an American friend told me. Is the country so big that they run out of names to give places? These two experiences set the tone for the beginning of my time in the US. Do not get me wrong, America is such an enormous and diverse country (incapable of being summed up in one blog); but in this post, I will tell you about my visit to a special American museum that gave me mixed thoughts about this country, and the stark contrast between America and other places I have been to.  Nothing would have prepared me for the "Land of the Free."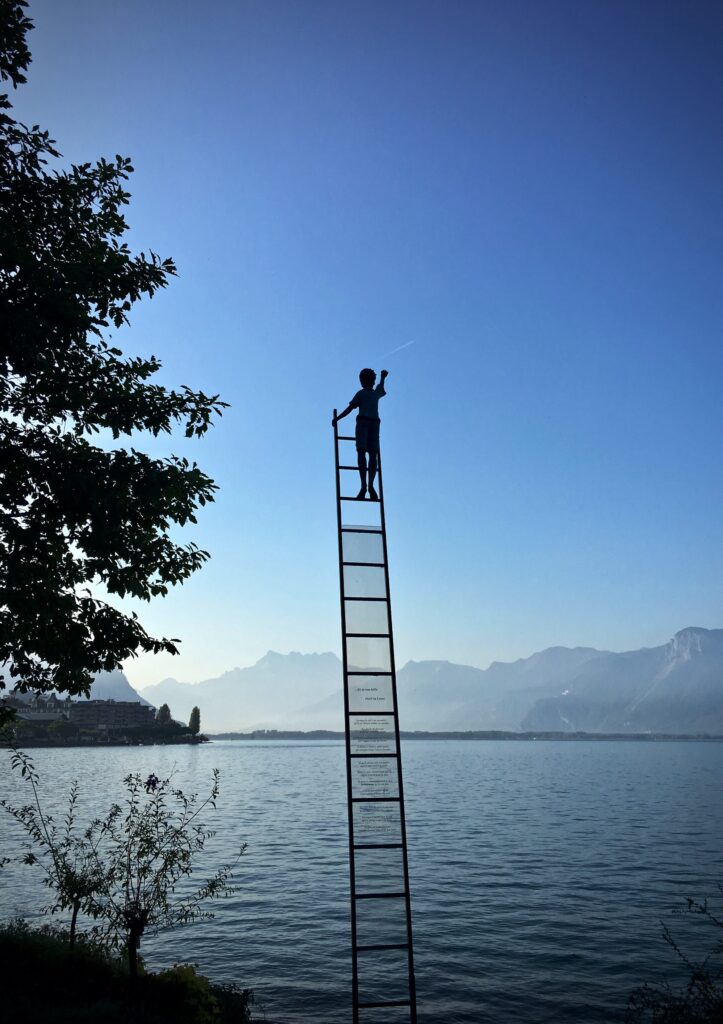 "Boarding group 8 may now board," I heard the airline official call us through the faintly sounding speakers. "Finally," I thought to myself. I was tired.  After a sixteen hour flight from Doha, Qatar to Dallas, I had to wait another four hours before getting on this flight.  When I first landed in the US, I couldn't help but notice how large the Dallas Fort Worth International Airport was. It took our airplane about 10 minutes find the gate where we were supposed to depart from. Compared to my country's singular airport: Entebbe,  Dallas Fort Worth was a goliath.  Even the size of the air port didn't take away from the fact that  I was hungry. I planned to eat  food at the Airport. Just after getting off the escalators, I saw the bright colorful Burger King logo  from afar. I knew then that  this was my que to get something to eat. On the dashboard, the burger price was nine dollars. Yet, when I made the order at the counter, I was asked to pay about twelve dollars and a couple of  cents.  I didn't understand why.  Wouldn't it have been a lot easier if the displayed price was the actual  price of the item? I learnt that the displayed price did not include taxes. In my short lived international travel, all other places I had been to were more straightforward, the price displayed is what you had to pay.
When I entered the aircraft, I had to walk sideways because aisle was small. Probably also because I am a little bit overweight, so the aisle felt narrow.  I staggered to the back since my laptop bag kept on being trapped between the aisle seats of each row. My seat was in the second last row from the tail of the airplane. It is the furthest I have sat in an airplane. I took my seat, placed my laptop bag under the seat in front of me, and took a deep breath. Later, my neighbor came in. He smiled at me in a vague insincere manner; just moving his cheeks and lips without opening his mouth.  The smile was artificial enough to make me feel noticed, but also superficial for me to see that it wasn't genuine. He was a well rounded muscular gentleman: everything I am not. He wore a baseball cap and white shirt. His hairy arms were noticeable even from three meters away. I said "Hello." "Hi," he responded, before he pulled his cap to cover his eyes and leaned his head back on the seat. That is the only time I saw his face. I arrived safely in Manhattan, where we (alongside other scholars) were going to spend the next three weeks.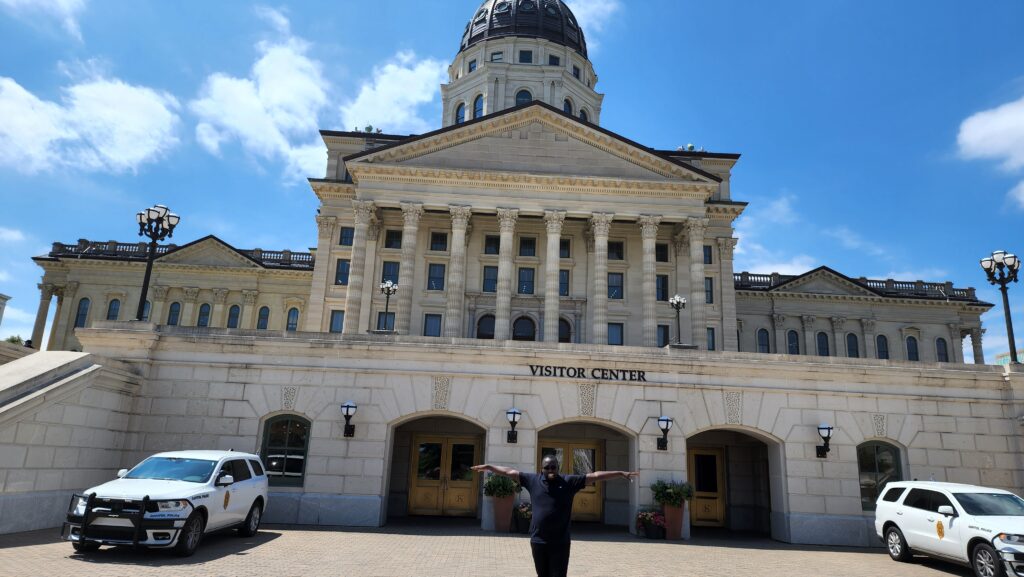 In Kansas, we had different classes, sessions and group activities.  I attended the Rodeo in Riley County.  A rodeo, as I witnessed it, was a midwestern American sport where "cowboys" and "cowgirls" did different competitive exercises with animals. This  ranged from wrestling bulls to riding them involuntarily. Some scholars did not attend the rodeo because of the perceived mistreatment of animals in this sport.   Regardless, it was a full house with over 2000 people in the stands. While this animated event went on, there were breaks between the different routines.  In one of the  breaks, a comedian was invited to speak.  The  comedian   had a horse beside him as a prop. This was unusual especially because he wasn't on top of the horse. Everyone wondered what he was going to do. He began to speak.  While leaning towards the tail and the back of the horse, he said "uuhmmm…this smells like Obamacare!" The crowd erupted into laughter. I found this rather surprising. I had read about Obamacare and how as a policy, it sought to subsidize the heavily commercialized healthcare in America. It could be that this is what freedom of expression meant, or perhaps, it was just a banter for  a good laugh in this part of America.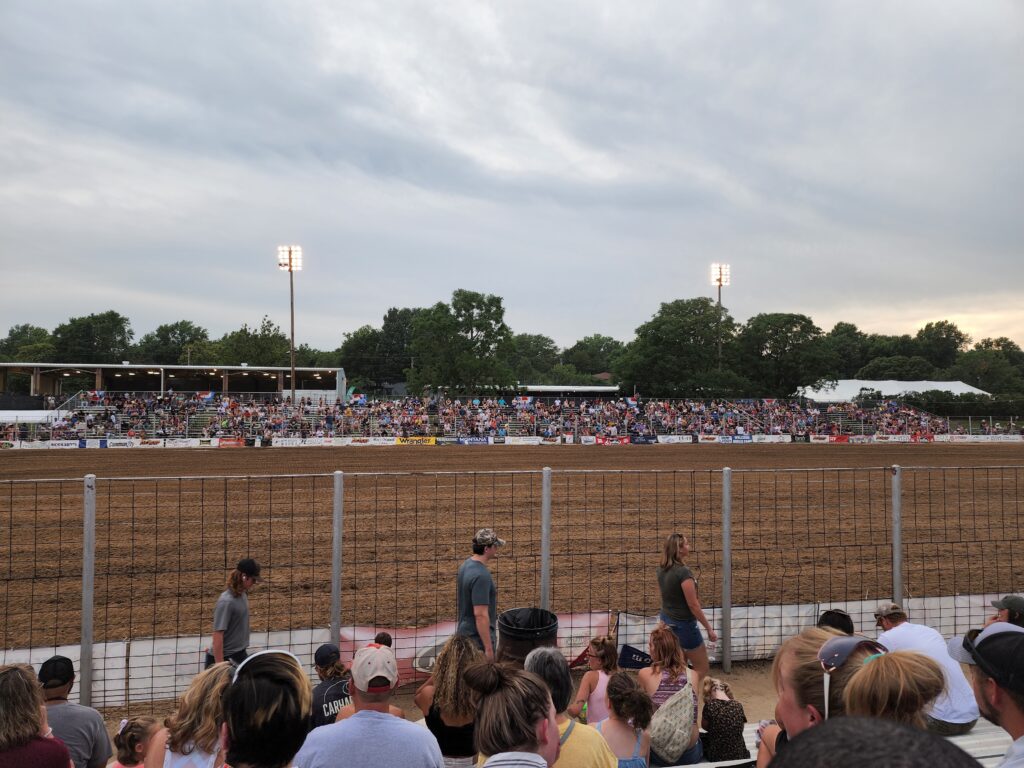 Throughout the three weeks in Kansas, among other things, we visited a bison ranch, toured the State Capitol and the most  profound of all was the visit to  the Brown v Board of Education Museum.
Standing at the center of the Brown v Board of Education National Historic Site, Topeka on Saturday 30 July 2022 was something I was looking forward to from the day I arrived in the US. Brown v Board of Education of Topeka is a special United States Supreme Court decision which declared that the policy by public schools to separate students based on race was unconstitutional. The case was brought by parents on behalf of black children who wanted admission to a public school designated for "whites" only. It is difficult to believe that, until 17 May 1954, schools were separated based on race in America. Possibly, this should not have been surprising considering dark history of slavery in this country. A stark reminder of the leaps this society has taken.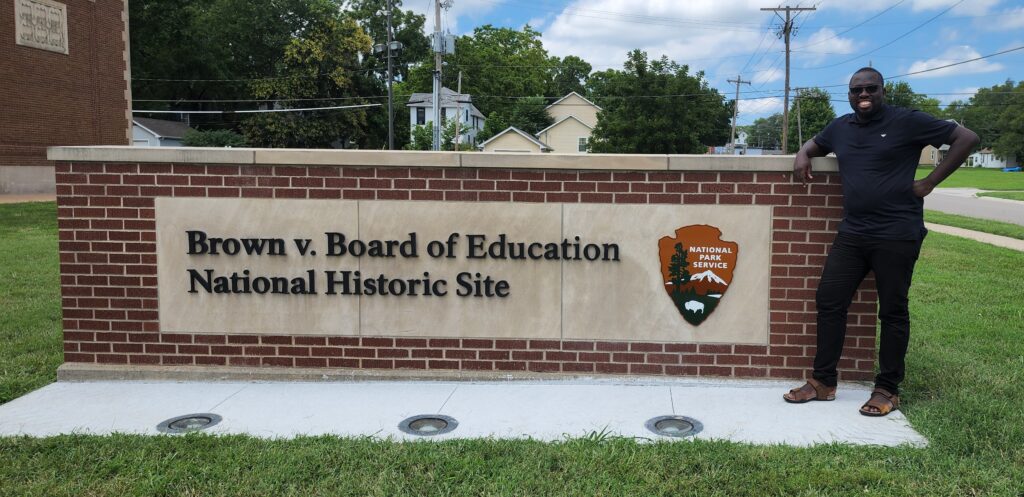 Black and white children went to different schools. This was permitted under the laws of different states and justified as, "Separate but equal."  I remembered in 2013, when we first discussed this court decision in a critical race theory class in Uganda.  This visit was momentous for me, because everything began at that school.  For historical purposes, the school was turned into a historic site and museum. The Museum documented the journey of the civil rights movement to this landmark decision.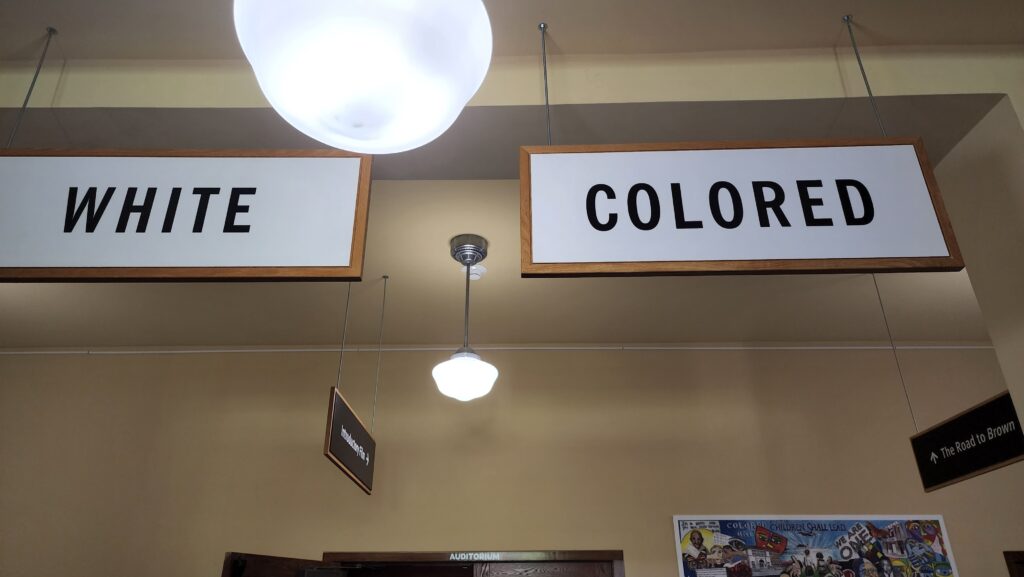 We arrived at this historic site in the burning heat of summer. My forehead felt like it had been forged from a hot spring.  The site is a majestic red-brick building that stretches out in a regular style. Grand in its minimalism. At its center is a tower-like entrance with a large gray door fitted with twelve panels of glasses. My first sight was the different rooms within the museum where they played historical videos about the journey it took to change this unfair law from Topeka, all the way through to Washington where the Supreme Court decision was issued. Other rooms depicted videos of what happened thereafter.
Although I was excited to visit this historic site, my heart was so heavy when I watched the videos. I am not American; it is obviously evident as you listen to my heavily infused Ugandan accent. I grew up in Uganda, which is a country in East Africa. I am "black." My chest grew heavy as I watched the videos that described the situation in America in the 1950's. For instance, one video showed protests of white men that were beating up black people. This made me feel hollow and created huge lumps in my throat. One white supremacist in the video said, "Segregation now, segregation to day, and segregation forever."  This did not happen long ago. It was not happening 200 years ago. It happened less than 75 years ago. What was supposed to be an exciting visit at such a historic site led me to wonder. What is it about race that made people so irrational? What makes us different? Is it the color of our skin? Should the color of our skin matter?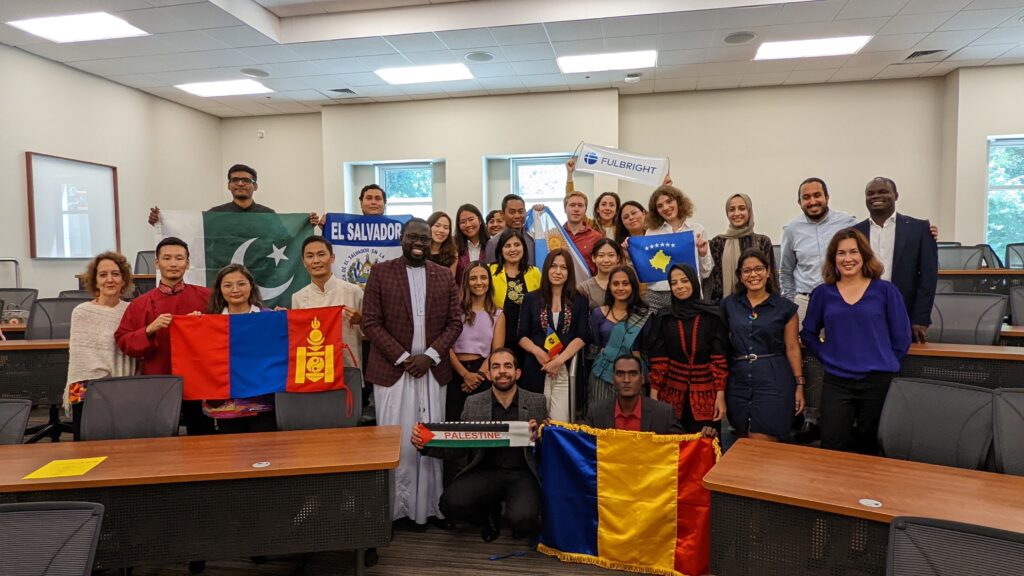 At the closing ceremony of the pre-academic programme, the Acting Director quoted Senator J. William Fulbright, "The essence of intercultural education is the acquisition of empathy. The ability to see the world as others see it and to allow for the possibility that others may see something that we have failed to see, or see it more accurately. The simple purpose of the exchange programme is to erode the culturally rooted mistrust that sets nations against one another.  The exchange program is not a panacea but an avenue of hope."  My travel to America is courtesy of the Fulbright Program for which Senator Fulbright played a great part in its commencement.  The pre-academic program brought together a team of Fulbright Association Scholars from over 20 countries. I have now moved to the University of Michigan Law School where I shall be based. Being immersed in a different cultural experience, learning from people from other parts of the world, and reflecting on the dark history of this Country, gave me more empathy and a deeper understanding of what it means to be human.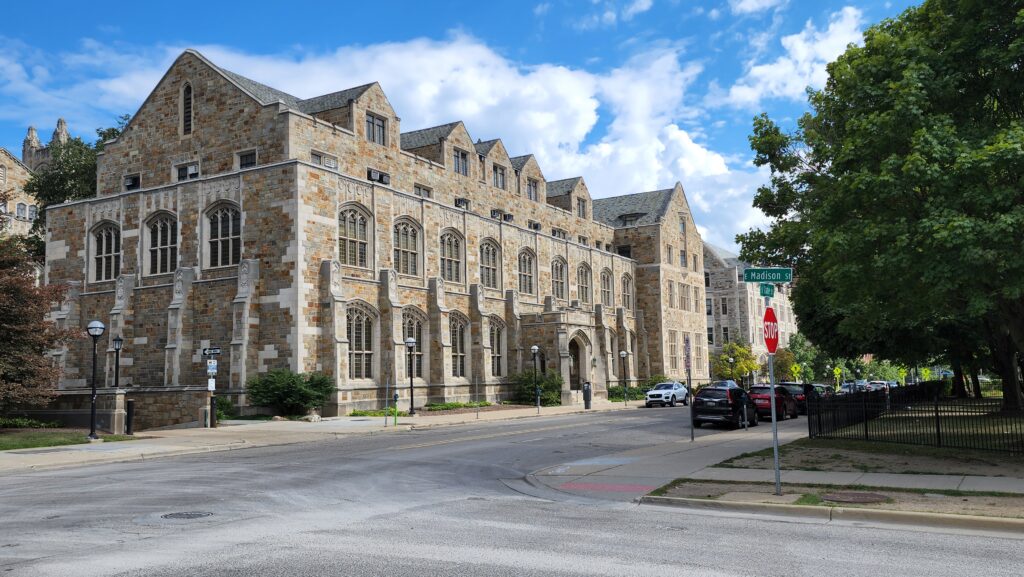 DISCLAIMER: The views expressed on this blog are opinions of the author and do not reflect those of any institutions or organizations mentioned.